Creative touch keeps entrepreneur's business thriving
A lifelong passion for thrifting and re-purposing results in Lucy Pearlle re-claimed living
Owner Carey McClement re-opens her doors Saturday, January 25th after a re-brand and a renewed vision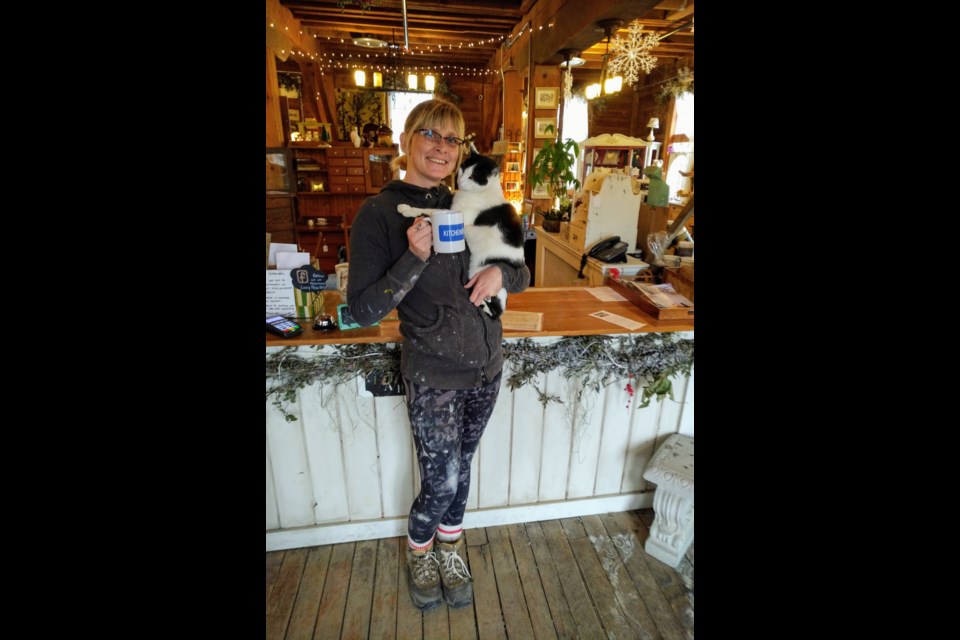 1
 / 
1
Lucy Pearlle reclaimed living owner, Carey McClement and Howard the Cat. Photo by Susan Cook-Scheerer
Carey McClement, owner of Lucy Pearlle re-claimed living, was raised in an environment where if you wanted something, it usually meant re-purposing something else. It was a philosophy that followed her into her adult life. 
"I like to change my house around constantly, so I needed an outlet to have furniture at my disposal all the time," she says. "And I couldn't afford to just keep buying new furniture, so I re-purposed pieces!" While she had finished pieces of furniture for her own use, it was only after a car accident involving her teenage daughter that she began to focus on re-purposing pieces for other people.
"I suffered from anxiety after my daughter's accident," Carey explains. "I needed something to help me deal with it, so I started painting furniture." She began by finishing an old record cabinet she had purchased for $14 and once it was finished she put it on Facebook. "It got thousands of shares and I thought 'Wow – I'm pretty good at something!'"
After losing her job in the finance industry, Carey decided she would try going into business for herself. She knew the business would centre on re-finishing vintage furniture;  she also knew what the name of her new business would be.
"Lucy Pearlle was the name of a person I had created in my teens," Carey says. "Then, in the early 2000's, I bought all the domain names and email addresses for Lucy Pearlle, because I knew that someday I would do something with it."
Originally when Lucy Pearlle's launched, the concept was for a pop up vintage market that would be held in different locations throughout Ontario. However, after trying the business model out in Shakespeare, she was closed down because she didn't have the proper permits.
"I wasn't sure what I was going to do, so I googled 'studio' and 'nearby', and then I clicked on the 'I'm Feeling Lucky' search," Carey says, "and the old mill in Wellesley came up." She drove to the village to meet with the real estate agent and check the building out. The former feed mill, located on Nafziger Road in the village of Wellesley, is a 166 year old building with wooden interior and rustic timbers. Carey knew it would provide the perfect home for the vintage furniture and locally sourced creations she wanted to feature. After talking to the building's owner, she decided she had found a permanent home for her business. Now almost five years into it, Carey is refining her business model, and has found her niche.
"We've re-branded in 2020, and are now focused on reclaimed living," she explains. "The business will have 3 different parts to it: there's 'reclaimed', which will be the retail vintage and home decor part of the business. Then there's 'retold', which is the custom refinishing we do here. And finally, there's 'shared', which is Lucy's Creative Arts Centre – a space that can be used for workshops, DIY classes, and seminars. We're encouraging people to use the space to host their own events, everything from launch parties and markets, to birthday parties and get togethers. We want to support the local community and their events." A part of the business that won't change are the annual Pop-Up markets held at the mill. These markets feature up to 75 different small business artisans who set up booths at Lucy Pearlle's location in Wellesley. "I have thousands of followers who come out for these pop-ups," Carey says. "Our upcoming pop-up market in June will feature music, food trucks, entertainment and a community art project, along with all of the vendors and shopping!"
While the environmental aspect of re-purposing is important to Carey, providing a service the community is looking for and appreciates is equally as uplifting. This fall, she began a Lucy Pearlle Guest Book, where customers could write down their comments. ""It would be great to have those reviews on social media – I love reading them!" she says. "I think there's something special about an old-school guest book where someone takes the time to write something and leaves a message for you. So, if you want to see my reviews, stop by and read the guest book!"
She also loves that being a small business owner means she has a direct connection to her customers. "When I have a special event I'm always at the front door greeting my guests: I feel like I'm bringing them right into my home, and I want them to have a good time when they're here. I tell my staff that we're not actually 'staff', we're really hosts, and we want people to be comfortable when they come here." You'll even be welcomed by Howard – Lucy Pearlle's store cat. "Howard is always up for a snuggle. He's always here and he looks forward to meeting our customers too!"
Source: https://bit.ly/37rtRJ6