How "transferable velocity" can solve the talent gap
How Companies Can Enhance Recruiting Through Upskilling
Upskilling new and existing employees can be a strategic advantage as it can help build a long-term talent pool and trust and loyalty.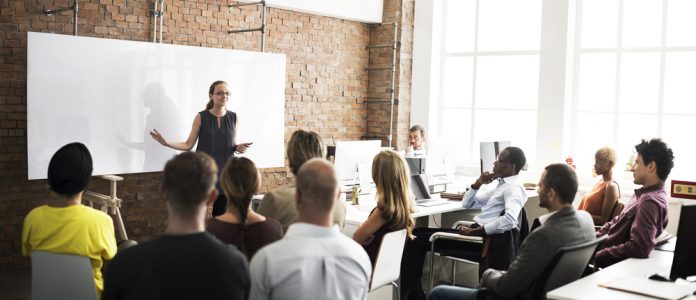 Let's face it, we're still living in a time of great uncertainty and transition. The pandemic continues to rearrange the economy and, as a result, rearrange the workforce. During COVID's onset, the unemployment rate hit 14.8 percent, and 20 to 30 million people were put out of work. Since the impact of COVID-19, an increase in Americans have departed from their current or pre-pandemic jobs—a movement coined the "Great Resignation" to differentiate those who lost their jobs because of COVID from those who are switching jobs despite COVID. At the same time, approximately 5 million Americans will need to find new jobs.
The "Great Resignation"
So how do employers put people back to work and fill employment gaps in their team? In response to this "Great Resignation" and hiring surge, companies are enlisting the help of staffing and recruitment consultants. They're also placing more focus on internal HR managers to help manage the transformative impact the pandemic has had on the economy and business operations. As people look at changing careers and exploring new paths to success, it's critical for HR managers and outsourced recruiters to look beyond the resume. We need to take concepts such as "transferable velocity" into serious consideration to bridge the staffing gap and tap into otherwise unexplored talent.
Simply put, "transferable velocity" is a forward-thinking and holistic approach to closing the post-pandemic talent and skills gap. The concept refers to an employer's understanding of both the apparent and not-so-obvious career trajectory of a candidate. When trying to evaluate a candidate's transferable velocity, it is best to consider the candidate's entire story, where they are likely to go next, or at least where they appear to have the potential to go. In contrast, reviewing someone's resume alone provides a hiring manager with a very narrow view of the candidate.
How to Gauge Transferable Velocity
One way to gauge someone's transferable velocity is to incorporate empirical questions into the interview to provide more valuable insight than asking the standard "tell me about your strengths" questions. Here are some examples of questions recruiters can ask during interviews:
"In your last role, why did you spearhead the creation of a program that helped at-risk youth graduate from high school? Walk me through the process of how you did it."
"I see that you took a year off from your career. What were you doing during that time?"
"Give me an example of a time when you had to motivate yourself to complete a project. What were the results and challenges you encountered along the way?"
"Tell me about a time when you pitched an idea to your boss to improve one of the processes within the company, but they ended up not going with your vision. How did you handle their response?"
These questions help determine if the candidate was the driver of their accomplishments or simply riding the coattails of someone else's success. Pay close attention to their responses. A quality candidate should supply detailed replies. In contrast, short responses that don't completely answer the question may indicate they weren't as involved in a company program or activation as they initially alluded to.
These types of inquiries will help pinpoint the candidates who have potentially transferable velocity. They may not be the best fit based on their resume and previous experience, but they have the potential to make a move to a new industry and role.
Then, delving into the "why" and "how" of their accomplishments will provide better insight into their dreams and future career goals. For example, an interviewer may find that a candidate from a different industry may have realized their previous profession wasn't for them. They left to pursue other ambitions and build a new career that focuses on their passions. After all, we are human beings who are prone to change. We no longer live in a time when it's common for someone to stay in one siloed career for their entire life.
Equipped with this insight, the hiring manager is in a better position to discern a high-velocity candidate with career goals that fit the company's needs. From here, the hiring manager can determine what kind of upskilling they need to either complete the job for which they've been hired or prepare them for their next role that will lead the business into the future. It's important to ensure these candidates are self-starters who will work for their accomplishments and be willing to learn new skills. The recruiter must determine whether applicants are willing to invest in themselves to determine whether they are likely to succeed in a new role.
Upskilling New and Existing Employees
It can be a strategic advantage to upskill new and existing employees. Doing so can help to build a long-term talent pool, as well as build trust and earn loyalty. Many staffing and recruiting pros find that adopting technology platforms that can streamline the process of candidate review and onboarding enables them to have more time for profiling transferable velocity and upskilling.
Leveraging end-to-end staffing and recruiting platforms that rapidly increase efficiencies can give recruiters more time to think strategically about how to best place and advance the skills of their applicants.
As companies look to the future, they need to ensure they are choosing the right talent. Incorporating consideration of transferable velocity into the recruitment process can bring like-minded candidates and employers together to their mutual benefit.
---