Sports
Mexico fans set off earthquake sensors celebrating World Cup win
Supporters in Mexico City watching Germany game cause two 'artificial' quakes during their team's surprise win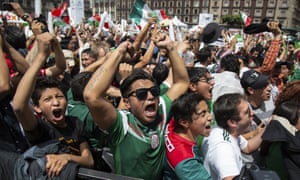 Mexicans jumping in jubilation on Sunday shook the ground hard enough to set off earthquake detectors after their team scored a surprise victory over World Cup defending champions Germany.
The Institute of Geological and Atmospheric Investigations said highly sensitive earthquake sensors registered tremors at two sites in Mexico City, seven seconds after the game's 35th minute, when star player Hirving Lozano scored. It called the tremors an "artificial" quake.
Fans waving Mexican flags and wearing traditional "sombrero" hats, gathered at the iconic Angel of Independence monument in downtown Mexico City, to watch the match on on a giant screen in front of a towering cathedral.
As Mexico beat Germany 1-0 in Moscow, they sang the country's unofficial soccer anthem, "Cielito Lindo," or "Pretty Little Sky," a popular folksong.
At the Angel of Independence monument after the match, Rodolfo Pulido, 47, led a chant of "Mexico! Mexico! Mexico!" perched on a concrete barrier that usually separates traffic on a busy thoroughfare.
"I am incredibly happy," said Pulido, with his girlfriend and son on a Father's Day outing. "It's a double gift: Mexico won and I get to celebrate with my son."
He also said he could now dream of Mexico reaching the next stage along with 15 other teams, getting a shot at reaching the quarter- and semi-finals before the final match.
"El Tri," as the team is called, in homage to Mexico's three-colour flag, has failed make it to the round of 16 in the last six World Cups.
Presidential front-runner Andres Manuel Lopez Obrador offered his congratulations at a campaign event in Mexico state, telling supporters, "Just like the team won today, Mexico will keep winning."
Fans on social media celebrated goalkeeper Guillermo Ochoa's performance, circulating memes depicting him as president of Mexico.
Others riffed on US president Donald Trump's pledge to build a border wall between the United States and Mexico, placing photos of Ochoa guarding the goal alongside the caption "Hey! We already have a wall."
Another popular meme depicted German chancellor, Angela Merkel, holding a phone to her ear with the text: "Donald? It's me Angela. Please build the wall."
Mexico will face South Korea in its next game on Saturday in Rostov-on-Dov, Russia.
196 Total Page Views, 1 Views Today