Taiwan to build science park for smart machinery
A groundbreaking ceremony was held on September 17 for the Erlin Campus of the Central Taiwan Science Park (CTSP), paving the way for establishing a platform for the development of smart technology, smart machinery and biotechnology, while helping accelerate Taiwan's industrial transformation.
The central government has injected a total of NT$36.3 billion (US$1.178 billion) to develop the 631-hectare campus, according to the Ministry of Science and Technology (MOST), which noted that the project had obtained environmental assessment approval by the Environmental Protection Administration (EPA) in May.
So far a total of 17 companies, including Hiwin Technologies, GlobalTek Fabrication, Jiuh Yeh Precision Machinery and KCMG Composites Taiwan Branch, have decided to build production facilities in the park with combined capital of up to NT$60 billion, according to MOST.
The Erlin Campus will help integrate the machinery-manufacturing clusters in the central Taiwan area, with its synergy to further foster the development of smart machinery manufacturing industry in Taiwan, said MOST minister Chen Liang-gee.
With more than 600 companies expressing interests to move into the park, Chen expects the Erlin Campus to create over 6,000 jobs in the future.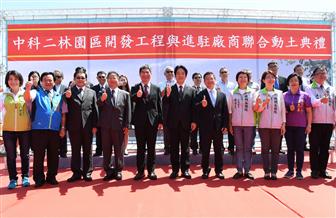 A groundbreaking ceremony for the CTSP's Erlin Campus
Photo: Government