Virtual project teams can succeed but have flaws
REMOTE TEAMS CAN THRIVE BUT NEED TO FAIL FASTER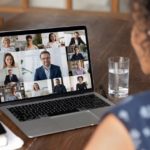 As we slowly emerge from lockdown measures and begin to assess how working life might look after Covid, there have been numerous discussions about whether the remote working that has been a feature of the pandemic will remain or not.
Perhaps a good place to start is understanding how remote working affects our performance, and especially our performance in teams. With a growing number of discussions around a more hybrid workforce, are there circumstances where remote teams work well and circumstances where on-site teams work better?
New research from Copenhagen Business School provides some valuable insights.  The researchers examined over 5,000 teams from a popular online community, most of whom are spread across both different organizations and different locations.  The teams, many of whom originated from the likes of Cisco and Microsoft, were working voluntarily on establishing standards for the internet.
Successful team working
Interestingly, the teams with members dispersed around the world and operating virtually seemed to be more efficient than their non-dispersed peers, but this only appeared to be the case when the projects were actually successful.
The researchers suggest that dispersed teams were effective in part because they would go through fewer iterations and spend less time cogitating on matters before reaching a successful conclusion.  They argue that this illustrates that because dispersed team members are all too well aware of the difficulties in coordinating activities virtually, they choose to do so primarily on projects that they believe will be successful.  What's more, having made this commitment, they tend to work extremely hard to ensure it succeeds.
When problems emerged and projects looked like they would fail, those teams that were physically together seemed better able to abandon them and refocus on new areas.
The authors argue that because co-located teams don't generally have to make any additional effort to coordinate their activities, they have fewer incentives to work efficiently and are therefore perhaps more inclined to take risks when selecting a project.
Knowing when to stop
This matters for the functioning of our organizations, as knowing when to stop doing something is crucial. A central part of Vijay Govindarajan's Three Box System is the middle box, which urges organizations to stop doing activities that are not producing results.  These so-called zombie activities tend to suck in resources that could be better deployed elsewhere.  Just as with the zombies found in movies, they are often very hard to kill off, with political factors often ensuring they drag on (and on, and on).
In the study from the Copenhagen team, virtual teams would often keep plugging away on projects after a point in which their co-located teams had already pulled the plug and moved on. The researchers suggest this might be because they invest a lot in the early stages of the project and therefore succumb to the sunk-cost fallacy that makes it so hard to walk away from something we've invested heavily into.
Equally there were difficulties in terms of effectively communicating the state of the project and on reaching agreement on precisely when it's time to abandon it.
Failing fast
The agile movement has underpinned the importance of "failing fast", both so teams can learn effectively while also ensuring what are often scarce resources are used in the most effective way. Columbia University's Rita McGrath outlines six ways that you can better prepare your organization to kill off zombie projects and help ensure scarce resources are utilized in the most effective way.
Predetermine criteria – Projects often drag on for emotional reasons rather than rational ones, so it can help set the stage for projects to be culled if clear criteria and targets are established before they even began.  While McGrath still advocates using judgment on the final decision, it does at least provide you with clear rationale to use.
Involve outsiders – We're often the worst judges of those things that are closest to us, so having some people unfamiliar with the project judging its merits can help to really cut to the chase and overcome any emotional attachments and blindspots.
Codify reusable learning – While freeing up resources is a key motive for ending projects, it's also invaluable to learn why projects fail, and what lessons can be taken forward into future projects to help them succeed.  McGrath advocates trying to codify this process so that it becomes straightforward to execute.
Celebrate success – Too often, we only regard successes as projects that met their goals.  In reality, however, any innovation is largely uncertain when it begins, so even should it fail, you have learned that it's not viable, and importantly, why it isn't.  That learning should be celebrated just as much as 'successes' are.
Communicate widely – There is a lot spoken and written about the 'culture' of innovation, and while a lot of that falls foul of buzzword bingo, the willingness to try (and the courage to fail) is not something that's present in many organizations.  It's vital, therefore, that outcomes are communicated widely, even when they're 'failures' to show that it's trying new things that's most important.
Provide closure – McGrath advocates having some form of event to provide closure for each project that is scrapped.  She advocates something symbolic like a wake or memorial, but whatever you choose to use, the event should draw a line under your zombie and prevent its revitalization at a later date.
Covid has provided a huge experiment in remote working and there are obviously many things that we will have to learn to get better at if it is to become a mainstream part of how we work from now on.  It seems that killing off those zombie projects when working remotely may well be one such improvement we need to make.