What Salesforce's Slack purchase could mean for offices
How Salesforce's Slack Acquisition Could Impact Employee Training and Onboarding
Slack and its third-party developers could leverage the Salesforce acquisition to revolutionize onboarding and employee training processes.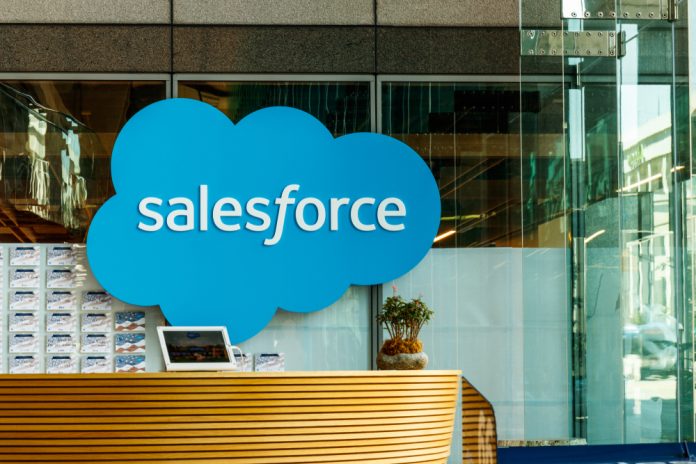 Anytime a company is sold for $27.7 billion, there undoubtedly will be ripples felt throughout the market for a good long while. However, many may look at Slack and then look at Salesforce, the tech behemoth that shelled out that money, and see somewhat of a superficial relationship. Some casual observers may even be scratching their heads. Isn't Slack just a messaging platform? Is Salesforce just trying to ride Slack's popularity wave and snatch it up before someone else does?
What these outside spectators fail to acknowledge is Slack's platform of third-party applications, as well as the meteoric potential the company could reach with Salesforce's power behind it. With the robust infrastructure of Salesforce and its enterprise-level offerings, Slack will be forced to level up its product. That's where some of these third-party apps will come in; adapting their product will be essential. If successful changes are made, these outside contributors would no longer be viewed as a convenient add-on but rather a collection of critical cogs that drive a reimagined Slack.
But how could this have an impact beyond increasing chat capabilities for online business discussions or remote workplace banter? The implications could be much more massive than some may have anticipated. Let's dive into how Slack and its group of third-party developers could leverage the Salesforce acquisition to revolutionize internal processes such as onboarding and employee training.
What Do Third-Party Developers Need to Do to Adapt?
Slack is no small platform on its own. The internal communication tool has seen its numbers skyrocket in previous years. Within the years of 2017 and 2019 Slack doubled its number of users from 6 million to 12 million. Additionally, as of writing this article, Slack has welcomed some 2,200 third-party apps onto its platform, meaning some 880,000 developers are working on Slack adjacent apps on any given day.
What the Salesforce acquisition does is add legitimacy to Slack's product. It confirms that the Slack phenomenon that has been building over recent years didn't reach a plateau or peak during the work from the home era. By buying Slack, a company as influential as Salesforce told the world that the growth seen by Slack was not a flash-in-the-pan-type incident, and the product, while under new leadership, is here to stay.
Slack's opportunities in the market have been solidified, which, in the long run, will be good for third-party developers. However, these benefits won't come without significant changes. Salesforce's ecosystem is much more mature and many of its clients are at an enterprise-level, which many Slack app developers have never had to account for. This new ecosystem will mean that third-party apps will need to adjust their product, not just to appease larger clients, but also to keep up and survive on Salesforce, which is an older and less flexible product.
Developers reliant upon Slack's platform won't be able to be complacent, and third-party apps may go through a period of "survival of the fittest." Many of these apps do one thing, granted, and they do that one thing well. But this means that many have been able to let their product be used for what it was meant for without needing to make any massive improvements or updates. Because of Salesforce's massive reach, without changes, many of these apps would become impractical overnight. These apps need to become "Slack Enterprise Grid" ready. The apps sitting on Slack's platform must adapt to be able to integrate with this tool, which connects multiple interconnected workspaces from within a single (or even several) companies. Many Salesforce clients have potentially thousands of workspaces on a single account, so this mental shift in terms of scope will be necessary.
If third-party Slack apps are able to adjust to this new mission, the opportunities in front of them are massive. It's not hyperbolic to think that a single app that can make the transition could itself be looking at a large acquisition offer.
What Is Slack's New "Ceiling"?
Salesforce, as mentioned, is robust. Slack will quickly be able to go upmarket and be more enterprise-ready by providing a product that is more secure and more scalable than any of their other previous offerings. With Slack's newfound legitimacy there soon will be a sizable "Slack ecosystem." This is where the relationship between Slack and Salesforce becomes a little bit clearer. Salesforce is not just acquiring business capital just for the sake of it. It is aiming to go beyond the sales vertical it is known for. Slack will become their answer for the modern work platform.
So what does that look like? It is not hard to imagine that Salesforce is aiming to turn Slack into a cloud-based platform that is a one-stop shop for any office. Think about what Microsoft Office was for much of the 1990s and a good portion of the 21st century. It became synonymous with doing anything on a computer. Many users were probably surprised when Apple made its surge to find out that Microsoft Office wasn't just something that came on every computer.
Now Slack is up against less of a monopolized market than Microsoft was able to produce, but Slack's ceiling could quickly become a legitimate competitor to Google's G-Suite. Slack has already taken over G-Chat as a preferred company communication system. Now with the help of Salesforce and third-party add-ons, Slack can challenge the rest of the workspace by providing easy-to-use cloud solutions for document and presentation creations, data analysis, and team organization.
How Can this Directly Impact Internal Training and Onboarding?
If we are correct in our forecast of what Salesforce's Slack could become, then it is not hard to imagine how internal training and onboarding could play into this.
From a hiring standpoint, by becoming the "cloud-based Microsoft Office," Slack and Salesforce will become essential knowledge for any new hires entering the overarching Salesforce ecosystem. Employers will look at Slack experience as a major skill, as someone who is fully trained on Slack will be able to make an immediate impact. Each company will use Slack differently and likely with a number of customizations. Another way to think of this prospect would be to imagine WordPress for a content creator. While some features may be different between companies, having someone come in with no knowledge of the system could lead to delays in productivity. Salesforce could end up having its name, or Slack's name, be a staple on every resume.
Employers, team managers, and onboarding specialists also will be able to run all of their internal processes through Slack. Third-party apps will be able to provide ease of movement between Slack's ecosystem and anything that might be used internally in Salesforce's pre-existing platform or even in G-Suite while Salesforce continues to expand.
One way to think of this in a practical way would be "how could a third-party ease the onboarding duties from the HR or managerial perspective?" Apps will be able to integrate all other workspaces and systems into Slack. Imagine, for example, a new sales hire has just been made and he wants to know more about the company's sales funnel. Apps could make this information as accessible as typing into Slack: "I need more information on our sales funnels." Third-party apps that are properly integrated then could automatically pull any relevant information from documents stored on their cloud platforms. Training-wise, this will alleviate much of the responsibility on the front end for hiring managers. Rather than asking questions such as, "What's our casual Friday policy?" new hires can find all of the basic onboarding information with a simple query. Then, once they have reviewed the internal documents they need to, they can become a faster contributor by being freed up to ask their managers more impactful, business-specific questions.
Whether through completely revamping the online workspace or creating a quicker, more meaningful onboarding experience, Slack's third-party app developers have been handed a massive opportunity to disrupt the market. If a single third-party app, or many apps, are able to unlock a way to streamline onboarding and training, then Slack and Salesforce could become a dominant force in the hiring field.